Unfortunately, in December of last year, we fell victim to water damage, which turned our basement into a construction site for a while. However, thanks to the strong support from the university, we not only managed to navigate the problem skillfully, but we also found a sustainable solution. A big thank you to FAPS, who offered us a replacement field with camera and tinkering corner within 24 hours of our request (!), and to the Department of Computer Science, who put all their energy into restoring the room.
However, our old carpet did not escape the water damage completely. Additionally, it had already seen better days, so shortly after RoboCup 2023, it was time for a new carpet. First, we had to make space for it in the basement.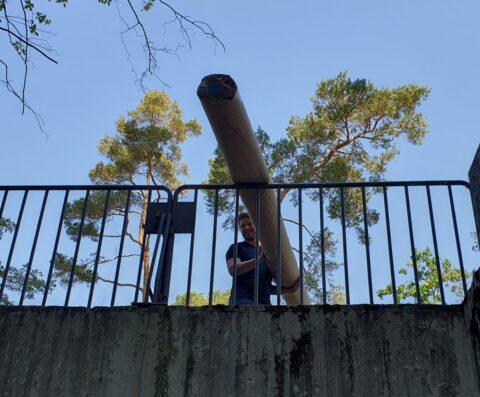 Only together were we able to bring the heavy, over five-meter-long carpet roll from FAPS to the basement. Once again, many heartfelt thanks for accepting and storing it during RoboCup. We had to navigate it through some tight corners and over high steps.
After safely getting the carpet roll onto the playing field, a significant advantage of our new carpet became evident. Unlike our previous one, this time we only had a single roll, so we didn't need to worry about aligning two separate sections while unrolling.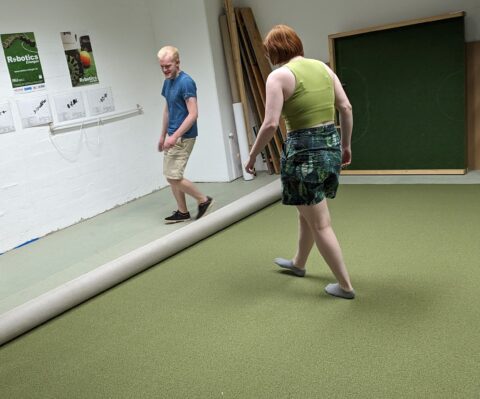 As the final step before setting up the vision system, we needed to stick the field lines to the carpet. Teamwork was crucial once again, as it was the only way to ensure the lines were straight when applied to the carpet.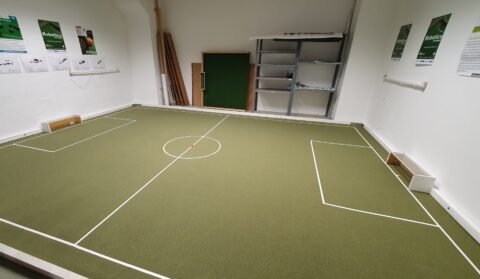 A special thanks goes to the company Kibek, with their branch in Fürth, which provided us with very competent advice and significant price support when obtaining the carpet.
In the past, we have been able to rely on the honest and knowledgeable advice from the employees in Fürth, and we will gladly do so again in the future!