On Wednesday, July 13th, 2022, the time has finally come again: The RoboCup starts with the first games! Our team has now also completely arrived in Bangkok. A quick review.
The arrival
We flew from Munich to Bangkok via Dubai in two travel groups. After two six-hour flights, we arrived at Bangkok airport in a good mood but very tired. After initially being very worried about the suitcases, we were relieved to find that not a single one was lost.
When we arrived at the hotel we were hungry after the long journey and so we looked for a restaurant in the neighborhood of our hotel where we could end the evening nicely. The second tour group arrived the next day, also safe and with all their suitcases.
This means that the first hurdle of the journey has been overcome, and there is no loss of tools, spare parts, robots or people.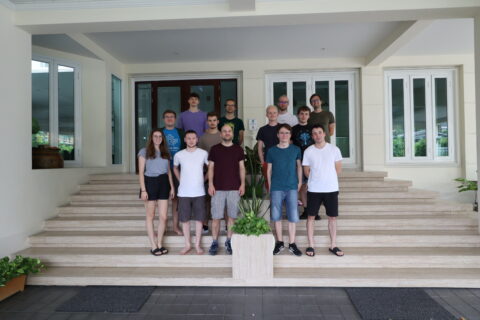 Preparation
We have already unpacked and sorted all our suitcases in the hotel room. The resulting chaos awakens the right RoboCup feeling in us again. The contents of the suitcase are quickly distributed to the rooms of the relevant sub-teams and stowed away in the many hotel cupboards.
Immediately afterwards, work began: bugs were fixed, code adjustments were made, soldered and screwed. Even the new prototype was taken for a walk in the hotel room. Break? Not for us, after all we want to be world champions!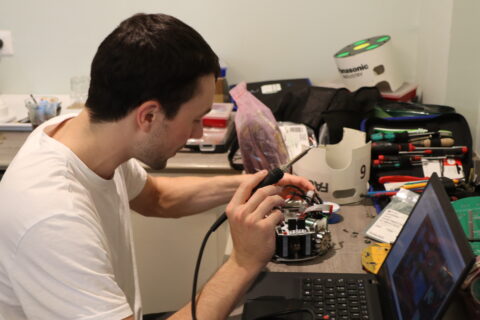 The Hall
On Monday we can finally go into the hall. As in 2018, however, the organizers underestimated how long it would take to set up such an event. As soon as we found out that another trade fair was set up in the hall by Sunday, we felt a little uneasy about whether we could really use the first setup day sensibly.
But actually, when we arrived in the hall at 3 p.m., the fields were set and everyone was busy setting up the camera system and their team setups. Finally getting a taste of indoor air again, we had to wait so long for that!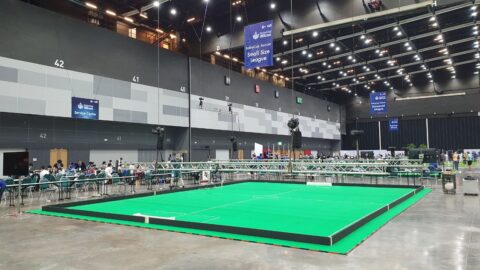 In anticipation of being able to test our new prototype on the big field, we are excited to see what the coming days will bring and how this RoboCup will go for us!