Today is the day. Our tournament in Crailsheim starts. Our team has been in the Karlsberghalle since 09:00 this morning and is hard at work setting up the field.
The chipboards are laid out, the carpet is rolled out and the cameras are hanging from the ceiling at a height of 6m. The vision is adjusted and calibrated with great sensitivity. After several strips of tape, all the tables are connected to the LAN and the end of field construction is in sight.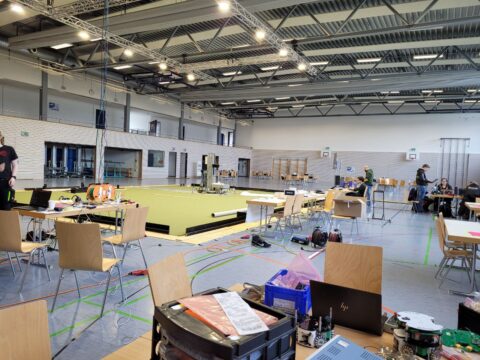 At the same time, the teams prepare the robots for the tournament. To do this, the color patterns that are required to recognize the robots in the camera system must be cut to size and attached to the robots. In addition, the last robots are still being screwed together and all the others are being serviced.
We are looking forward to an exciting test tournament!
Tomorrow the tournament is scheduled to start at 09:00. The first game will be played between TIGERs Mannheim and RoboTeam Twente. Meanwhile, our first game is expected to start at 11 a.m. against the new French team NAMEC.