Now that the RoboCup is already a few days behind us, we'd like to take the opportunity to review the tournament.
Overall, our team was very well prepared, having all the electronic and mechanical components with us, allowing us to respond adequately to every situation with our equipment.
While it's unfortunate that we ultimately lost due to our radio communication, everyone is already looking forward: Our sponsors Gerhard Schubert and HBC-radiomatic are already offering to address the existing issues with the radio system, so we can soon showcase our full potential.
We're also looking ahead: Not only are we preparing for the arrival of a team from Uruguay at FAU at the end of July for a joint workshop, but we're also planning improvements. While nothing works without radio communication, our motor boards have also posed problems. A robust solution needs to be in place by Christmas.
There was a small moment of joy at the end of the tournament: We quickly had the opportunity to take a photo with our friends from TIGERs Mannheim to compensate for the missing match against them.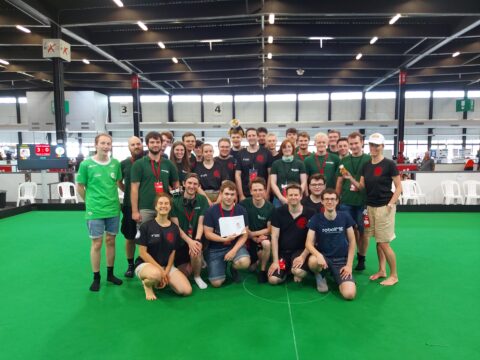 In the end, we're happy that the vacation, apart from the unfortunate theft of personal belongings, went very well, and everyone enjoyed it. The wine museum in Bordeaux, the beach holiday on the Atlantic Ocean, or the French National Day in Paris: Many beautiful moments will remain in our team's memory, making our time together truly unforgettable.
So, there's only one thing left to say: See you all in Eindhoven 2024!