Before the actual tournament matches can begin tomorrow, we have another setup day today, during which teams can build and test their robots. Traditionally, these setup days are also used for playing friendly matches against other teams, and we have scheduled a friendly match with our long-time friends UBC Thunderbots (Vancouver, Canada) for 2:30 PM.
UBC Thunderbots is a Division B team that has existed for many years and has achieved numerous successes, including first place in Division B at RoboCup 2019 in Sydney, Australia. Our team has always had a close friendship with the Thunderbots, which is why we always try to spend time with them at RoboCup events.
Currently, the robots are still being set up on the field, and preparations are in full swing. Both teams are playing with new robots, ER-Force with 6 and Thunderbots with 5. And finally, it's time to start. However, it's not an exciting game: Our robots are suffering from significant firmware and control problems. Additionally, our tachometers are vibrating, resulting in poor measurement data.
All in all, not much happens in the game; our robots mostly stay in our own half of the field, and the game ends in a 0-0 draw. Nevertheless, the game serves its purpose: All the problems that occurred during the game can now be fixed in the hope that tomorrow, when it counts.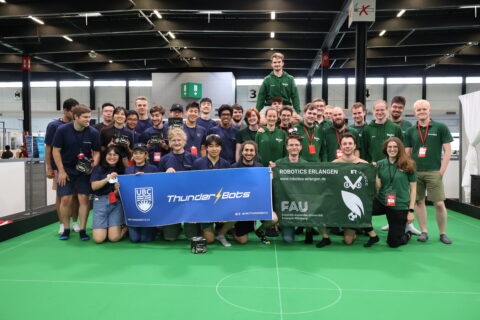 There was a small incident at the end: Apparently, one of our chargers was accidentally set to the wrong battery type, resulting in a battery being charged to 4.8V cell voltage, which is very dangerous. The battery was very warm and practically round afterwards. However, together with the league organizers, our team, and the security personnel, we managed to defuse the situation: The battery was put into a LiPo bag, which was placed in a metal cooking pot, and then taken out of the hall onto a free asphalt surface for monitoring from a distance. Finally, the battery was disposed of by firefighters.
All in all, we were fortunate in this case, but such incidents should not happen again. We can conclude that having multiple battery chargers simultaneously is not advantageous, as mistakes can occur more easily. We will likely invest in purchasing additional battery chargers to ensure that we only have one model in the future.