In the game against the reigning world champions Tigers Mannheim, we weren't able to win, but we were able to hold the 0-0 lead. It was an impressive game from both sides and against such a good opponent we were also able to show what our robots and AI can do. In the second half it was particularly exciting when our mechanics tried to use a timeout to get more time to repair a very broken robot and then unfortunately almost didn't make it to the end of the game. One of our robots was also rammed and almost did a somersault but luckily got back on its wheels. We were able to defend our goal until the end. Hopefully by the next game we'll have a few more tricks up our sleeves and manage to win. For the group stage, however, this draw was already a positive result.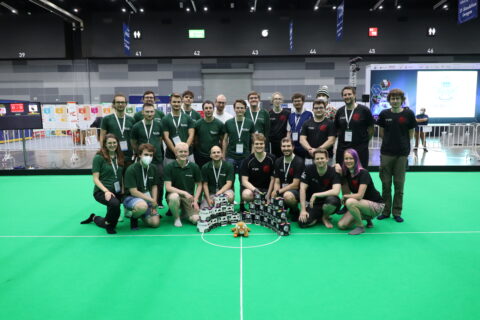 NOTICE: The game against Tigers has been moved forward by one hour. So it doesn't take place at 7:00 p.m. (Germany 2:00 p.m.) but at 6:00 p.m. (Germany 1:00 p.m.).
Live Stream:
RoboCup 2022 – Day 1: ER Force vs TIGERS – YouTube
Live ticker
0′ Kick-off at 18:07.
1′ ER-Force has to restart a robot, but he's right back at it.
2′ Nice ball passes from both teams
3′ Throw-in for Tigers near the ER-Force goal.
Throw-in for ER-Force near Tigers goal.
4′ ER-Force has to restart two robots again.
halftime
6′ Tigers have to replace a robot.
8′ ER-Force uses a timeout to fix a robot.
9′ Tigers have an opportunity to score, but ER-Force makes a save.
The game ends 0:0